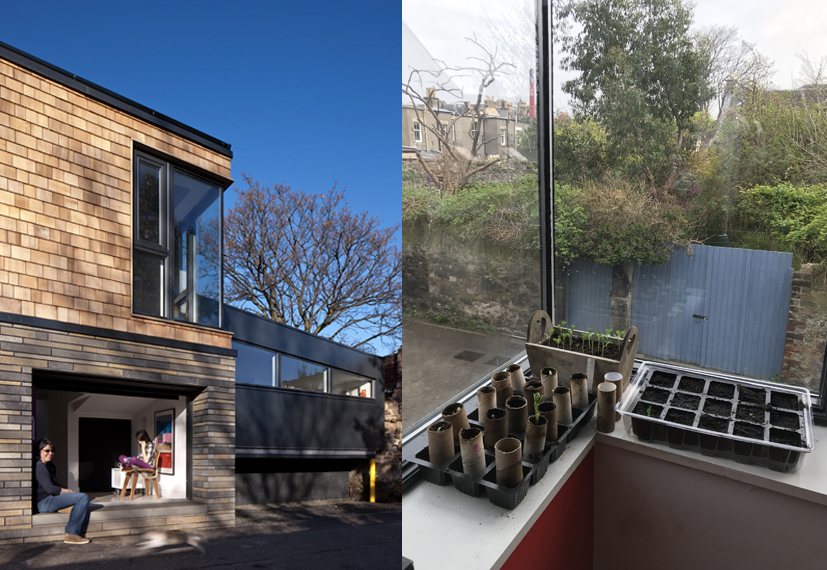 Discovering new spaces during the lockdown.
Being part of the 8 O'clock NHS clap yesterday made me think about how we are using our spaces, both public and private, so differently at the moment. We opened our physio space window, so that we shared a space with the tenements on Marlborough street, and the houses on our side of Marlborough street, which have adjoining gardens to ours. Usually the tenements seem a long way away, but the communal activity of collectively thanking the NHS (at a time when there is such a restriction on communal activities) made an unusual public space, both horizontally, and sectionally. Each of the bay windows (a valuable space that sits between public and private) were opened and people leaned out to be part of the aural cheer of encouragement and gratitude, making a new public space of connection that we need so much at this time.
I have noticed during the lockdown how people are drawn to their windows, which suddenly become connecting places to the outside world, the sun, fresh air, gazing into the distance, waving at a neighbour.  In the Ramp house, we have been looking at all our windows, and working out how to use them better. Some of this just involves moving piles of books, so that the flow between inside and outside works again. We have also looked at windows that can be occupied for different activities – sometimes putting a cushion on the window sill, to remember to sit there, sometimes more building work is needed like in our attic space "Little Venice" (more in a future blog), but all the kind of building we can do during lockdown, re-using building materials we might have otherwise discarded (Greta loves nothing better than ratcheting old screws out of old timber, to be used again). 
My favourite occupation of window space so far is the corner greenhouse window, where we are growing sweet peas, broad beans and one pea (from a packet that was 6 years old!). The green inside the corner window connects the eye to our neighbour's wonderful wild garden we look onto. Best of all, every day, in this lockdown that is counted in days, there is change. The seedlings and plants never look the same: each day they reach closer to the sun, and looking to the future, they will continue to change and grow, and reach for the sun.